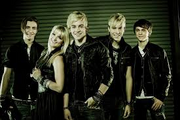 R5 is a totally awesome pop-rock band. Members of the band are Ross, Riker, Rocky, Rydel Lynch, and Ellington Ratliff. Their manager is Ryland Lynch.
History
R5 formed when the Lynch children were pretty young as they loved to perform. When Riker was 16 he wanted to pursue a acting career, so the family moved to Los Angeles. After they moved to L.A., some of the Lynch children started starring in commercials and all five of the boys were members of the Rage Boyz Crew on the TV show So You Think You Can Dance. They met Ellington in October 2009 at a dance studio and they made him a member after finding out he could play the drums. On March 9, 2010 the band released a EP called Ready Set Rock. In April 2012  the band anounced that they had signed a record deal with Hollywood Records, and that they would be doing a mini tour in May. In 2009 they started a YouTube series called R5 TV so they could show their fans what they were up to. In 2012 R5 recorded Loud which was released on Febuary 19, 2013. The single Pass Me By was released on August 20, 2013. Their album Louder was released on September 24, 2013.
Songs/Albums
Albums
Ready Set Rock
Loud
Louder
Singles
Loud
I Want You Bad
Pass Me By
Promotional Singles
Say You'll Stay
Tours
2012: R5 West Coast Tour
2012: R5 East Coast Tour
2013: Loud Tour
External Links
en.wikipedia.org/wiki/R5_(band)
Ad blocker interference detected!
Wikia is a free-to-use site that makes money from advertising. We have a modified experience for viewers using ad blockers

Wikia is not accessible if you've made further modifications. Remove the custom ad blocker rule(s) and the page will load as expected.